REIGN is a spirit-filled church in Orange County CA. 
We exist to bring Jesus to the world by the power of Holy Spirit.  
REIGN is a local and worldwide ministry led by Terry and Debbie Hilgen.  Their passion is to lead all people to experience Jesus and Holy Spirit intimately.
Terry and Debbie are prophetic evangelist active in their city to impact singles, families, regions and nations to know Jesus.  They have seen thousands come to know Jesus and be healed by the power of God.
For more information on REIGN Church, REIGN Evangelism Crusades and REIGN School of Ministry, visit us in person or on-line @
https://www.reignchristianfellowship.org
https://www.facebook.com/ReignChristianFellowship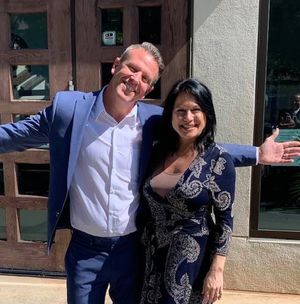 REIGN is led by our founders & senior pastors Terry and Debbie Hilgen.  Terry experienced a life-changing Saul on the Road encounter at 33 years old where God transformed him after a three-hour encounter with Holy Spirit.  Terry is a student of God's Word and was a student at Supernatural School of Ministry under Benny Hinn.  Terry operates in the gifts of prophesy, healing, faith and teaching. 
Pastors both operate in the apostolic giftings and truly walk in the spirit of God.  Pastor Debbie is an amazing teacher gifted in wisdom and love.  Married for 31 years, they are blessed to parent three amazing children and one grandchild. Their heart is for everyone to encounter & experience God personally & intimately.  They will "love you to life."
Pastors - Terry & Debbie Hilgen
Children's Pastor - Dana Halverstadt
Overseer - Mike Brantley
Deacons - Many 
VISION ~  To see everyone encounter God intimately.
MISSION ~ Love Jesus, Share Jesus, Love Others to Life.
INTENTION ~ Acts 2  "And afterwards, I will pour out My Spirit on all people"
REIGN follows and believes in the Holy Bible, God's Word. 
We believe in the same power that Jesus & early church operated in is for today.  
We believe that the Holy Bible is the inspired Word of God & the absolute authority for our lives.
We believe that the bible, prayer & worship are key principles for a victorious life. 
We believe it is God's will to live a personal, intimate & surrendered life to JESUS!